Μια νέα γεωμαγνητική καταιγίδα βρίσκεται σε εξέλιξη, αφού ένα νέο κύμα ηλιακού ανέμου χτυπά αυτές τις μέρες τη Γη! Είναι οι τελευταίες μέρες που μπορεί χλωμά να δει κανείς το βόρειο Σέλας για αυτή τη σεζόν, καθώς, αρχίζει να μπερδεύεται με το φως από τον ήλιο του μεσονυκτίου! Αντίθετα στο νότιο ημισφαίριο μπαίνουν στην σκοτεινή περίοδο του χρόνου! Κάτοικοι του βορά… ραντεβού τον Οκτώβριο! Η υπέροχη φωτογραφία είναι από το Νότιο Σέλας στο Κουίνστάουν της Νέας Ζηλανδίας! A stream of high-speed solar wind is buffeting Earth's magnetic field and stirring up geomagnetic storms. At this time of year, the midnight sun interferes with the visibility of Northern Lights over Alaska and Scandinavia, but the situation is different on the other side of Earth. Southern Lights were on full display this morning in the dark autumn skies of Queenstown, New Zealand:
ΟΛΑ όσα θα θέλατε να μάθετε για το υπέροχο φαινόμενο, με ένα κλικ ΕΔΩ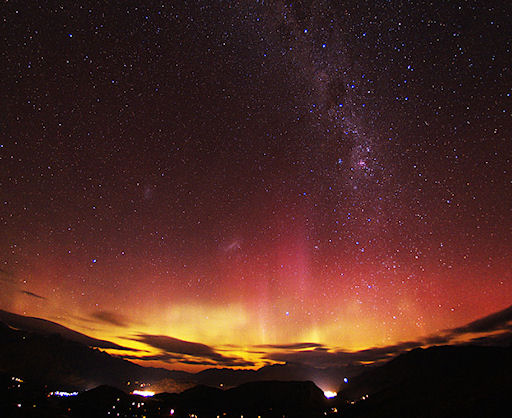 photographer Minoru Yoneto.
Share on Facebook